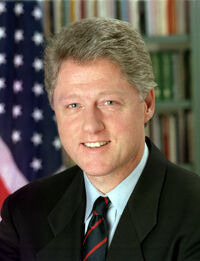 William Jefferson "Bill" Clinton (born August 19, 1946) was the 42nd President of the United States, serving from 1993 to 2001. Clinton was previously the Governor of Arkansas. He is married to Hillary Rodham Clinton, who serves as Secretary of State in the administration of President Barack Obama.
Clinton is a member of the Democratic Party. As President, Clinton signed the Digital Millennium Copyright Act into law on October 28, 1998, codifying what has become over a decade's worth of intellectual property law for the internet.
Links for Bill Clinton
Edit
Ad blocker interference detected!
Wikia is a free-to-use site that makes money from advertising. We have a modified experience for viewers using ad blockers

Wikia is not accessible if you've made further modifications. Remove the custom ad blocker rule(s) and the page will load as expected.