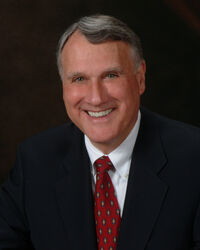 Jon Kyl is a member of the United States Senate where he has represented Arizon since 1995. He was previously a member of the United States House of Representatives, where he represented Arizona's 4th district from 1987 to 1995.
Kyl is a member of the Republican Party and currently serves as the Senate Minority Whip, making him the second highest ranked Republican in the Senate, behind Minority Leader Mitch McConnell. He is currently a member of the Senate Judiciary Committee and the Committee on Finance.
As a member of the Judiciary Committee, Senator Kyl voted in favor of moving the PROTECT IP Act out of committee for a vote on the Senate floor.
External links
Edit
Ad blocker interference detected!
Wikia is a free-to-use site that makes money from advertising. We have a modified experience for viewers using ad blockers

Wikia is not accessible if you've made further modifications. Remove the custom ad blocker rule(s) and the page will load as expected.