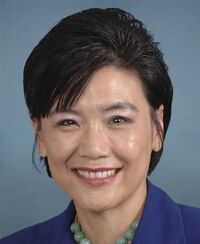 Judy Chu (born July 7, 1953) is a member of the United States House of Representatives, where she has represented California's 32nd congressional district since 2009. Chu is a member of the Democratic Party and serves on the House Judiciary Committee, as well as the House Committee on Education and Labor and the House Committee on Oversight and Government Reform. She is a co-sponsor of the Stop Online Piracy Act.
Links for Judy Chu
Edit
Ad blocker interference detected!
Wikia is a free-to-use site that makes money from advertising. We have a modified experience for viewers using ad blockers

Wikia is not accessible if you've made further modifications. Remove the custom ad blocker rule(s) and the page will load as expected.