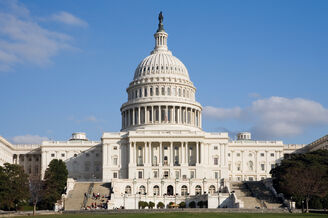 The United States Congress is a bicameral part of the legislative branch of the government. It is composed of the House of Representatives and the Senate. The bicameral arrangement was created with the Great Compromise[1]. Representatives are chosen according to a state's population, while each state has two Senators. Presently, the Republican party has majority in the House, while the Democratic party has majority in the Senate.
References
Edit
Ad blocker interference detected!
Wikia is a free-to-use site that makes money from advertising. We have a modified experience for viewers using ad blockers

Wikia is not accessible if you've made further modifications. Remove the custom ad blocker rule(s) and the page will load as expected.