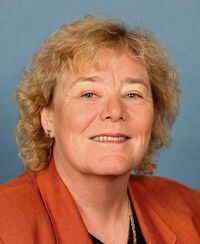 Zoe Lofgren (born December 21, 1947) is a member of the United States House of Representatives, where has represented California's 16th congressional district since 1995.
She is currently a member of the House Judiciary Committee, the Committee on Science, Space and Technology, and the Committee on House Administration. She was previously the Chairwoman of the House Ethics Committee. She is a member of the Democratic Party.
She is a supporter of the OPEN Act[1]
Stance on SOPA
Edit
As a member of the Judiciary Committee, Lofgren will have the opportunity to vote on whether to pass the Stop Online Piracy Act out of committee for a House floor vote. She has indicated her opposition to the bill, stating that the bill "is overly broad and would cause serious and long term damage to the technology industry, one of the few bright spots in our economy."[2]
References
Edit
Links for Zoe Lofgren
Edit
Ad blocker interference detected!
Wikia is a free-to-use site that makes money from advertising. We have a modified experience for viewers using ad blockers

Wikia is not accessible if you've made further modifications. Remove the custom ad blocker rule(s) and the page will load as expected.